2022 has been ravaged by rising prices in almost every facet of life. However, one of the most crushing cost increases can been found in grocery stores across the U.S. Will prices go down in the next year? Here's what experts are estimating.
Severe Inflation 
Food is becoming less and less affordable yet no less necessary. Families across the world are battling rising prices while still trying to feed their families. These severe cost increases reached a peak in August of this year. Inflation was up 13.5% from the year before. This staggering statistic marks the highest annual rise since March of 1979 according to government data.
Contributing Factors
There are multiple reasons why inflation is currently so high. An article written by Danielle Wiener-Bronner and Nathaniel Meyersohn for cnn.com explains, "A number of factors have contributed to the surge in prices. Producers say they're paying higher prices for labor and packaging materials. Extreme weather, like drought or flooding, and disease, like the deadly avian flu, have been hurting crops and killing egg-laying hens, squeezing supplies."
In addition to extreme weather and climate issues, war has ravaged countries that produce a large portion of the world's barley. This crop is used to feed livestock across the world. With both Russia and Ukraine at war, and no idea when it when it will stop, it's difficult to say when those crops will be back in commission (if ever). These unforeseen circumstances have led to global food shortages.
Uncertainty Ahead
Experts estimate that inflation will hang around through the end of 2022. Prices are expected to moderate in 2023, but that doesn't mean they're going to go down. When prices hit a certain level, they usually don't return back to what they used to be. They either stay where they are or continue to go up. Inflation is expected to continue to rise between 5-10% throughout 2023.
Production isn't seeing any breaks in their costs. Because people have to eat, demand for food remains high. This makes it easy to pass the increase in costs down to consumers. You can make some cutbacks, but ultimately have to shop for groceries and pay what it costs. For this reason, prices will rise and sales will continue to flow in. This also means that companies have no incentive to lower prices because consumers will continue to pay what they must in order to feed themselves and their families. This phenomenon is known as Elasticity. It refers to whether or not consumers change their shopping habits based on rising prices. For now, elasticity remains good which means current/rising prices are here to stay for the foreseeable future.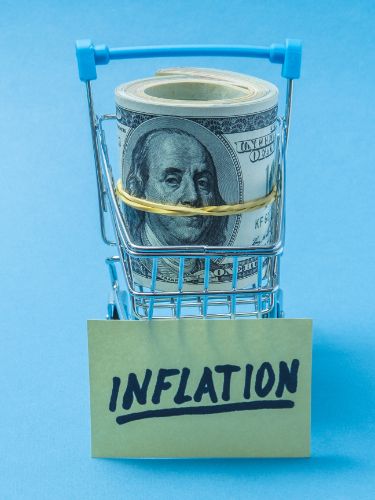 There has much so much tragedy and unforeseen circumstances that have affected food production around the globe. Everything from climate issues to war has dealt the food industry a difficult hand. With much uncertainty in the future, it's difficult to say when food prices will truly regulate.