A trip to the grocery store these days can feel pretty defeating. Prices are high and you still need to eat. If your grocery bill is causing you stress, here are a few ways to fight price inflation when shopping.
Challenge Yourself
If you're a competitive person or just someone desperate to save money, turn your grocery shopping experience into a competition. You vs. inflation. Try to keep your grocery budget the same, but get creative when planning out your meals. Challenge yourself to find new recipes, cheaper ingredients and shop sales in order to stick to your budget. This will be difficult, but the skills you're going to learn as you have to get creative will be worth the struggle.
Buy in Bulk
Even if your family is small, buying in bulk makes sense for certain items. An article written by Nicole Dow for thepennyhoarder.com states, "While you'll pay more money upfront for stuff in larger quantities, it's actually a smart move to buy in bulk. Typically, you'll pay less per item. If you don't need a three-box bundle of cereal or 10 pounds of macaroni noodles, you could always split your shopping haul with a friend or family member. Or you could just use this as an excuse to do less grocery shopping throughout the month."
Comparison Shop
Now more than ever is the time to comparison shop. Check out your local store ads and find the items you need for the cheapest price possible. It might seem like a lot of leg work, but if you're looking to keep your budget intact, this is a skill that will help you accomplish that.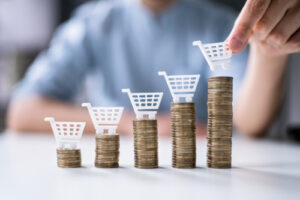 Buy Store Brands
While you may feel as if name brand foods 'taste better', it's time to move past that. Next time you're tempted to spend extra money on name brand goods, read that ingredients for the store brand and compare them to your favorite snacks. You'll find that they're typically the same. The savings you'll receive by purchasing store brands is worth any slight taste discrepancy.
Cut Back on Meat
Saving money at the grocery store can be as easy as buying less meat. The above mentioned articles goes on to say, "Cutting back on meat will have a significant impact on your grocery bill, because beef and pork and chicken tend to be some of the more expensive items in the store — inflation or not. Going meatless a day or two a week and turning to cheaper alternatives, like beans and lentils, can help you cut costs."
Buy Produce Locally
A great way to save money on your groceries is to buy produce locally. Find farmers in your area and help keep them in business. You'll not only save money, you'll help a small business. If you can't find anyone to buy from, plant your own garden!
It takes a bit of work to fight inflation. However, your efforts will be well worth it in the end!