The Holidays are fast approaching! Expenses can spiral out of control if you're not careful. If you're looking to do a scaled back version of the Holidays this year, here are some ways you can save some money.
Use Cash
It's easy to overspend when you're using a credit card to make your purchases. You can't physically see how much debt you're accruing which makes it feel like there won't be any consequences. When you use cash, you can physically see your Holiday budget dwindling as you make purchases. This makes a difference in your brain. When you can feel yourself running out of cash, it will help you re-prioritize your shopping list in order to stick to your budget.
Make a Budget
Before you start shopping for any Holiday, make a budget. Whether it's Thanksgiving dinner or your Holiday gift budget, you need to estimate how much it's going to cost. This requires a lot of thought work. You need to go through your entire meal and plan out what you're going to eat. If you're shopping for gifts, you need to write down everyone you need to buy for. Then, assign a budget to each person and write down some gift ideas for them. Research your ideas to find out if your budget matches your idea. If not, head back to the drawing board and think of new ideas or adjust your budget accordingly. When you put in this much effort, it's important to respect and stick to your budget. Overspending is not the goal of any Holiday. Spend what you have allocated and try not to go over that amount.
Gift your Time
A great gift isn't measured by how much money you spend. If you don't have a lot of extra funds, gift your time. Make someone dinner, offer to clean their garage or pull weeds in their yard. This will likely be something that costs you little to no money. However, it will mean a lot to the recipient of your gift. Gifts of time show people that you care for them.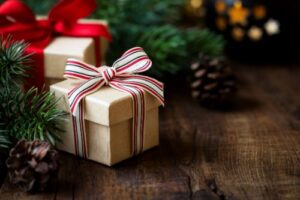 Thoughtful over Expensive
As previously mentioned, a thoughtful gift is more meaningful than an expensive one. Get creative to give your loved ones gifts that aren't costly but still incredible. An article written by Libby Wells for bankrate.com further elaborates by saying, "Some people are hard to buy for. They've reached a point where they have everything they need, which gives you an opportunity to be creative and come up with a thoughtful, simple gift that is also inexpensive. It could be a framed photo of a special memory, an engraved letter opener, tickets for an event or show, a decorative pillow or something beautiful from a local antique mart or flea market."
Holidays don't have to put you into debt. Budget accordingly, shop sales, and put thought into your gifts this year. Don't be afraid to do things differently in order to save money.