Getting started with couponing can feel a bit daunting. It's not difficult but there's a lot to learn in order to do it well. If you're interested in embarking on a money saving journey, here are a few tips to help you succeed.
Make Time
The first thing you need to do in order to ensure couponing success is to set aside time for it. While couponing is pretty easy, it's time consuming. You need to be able to search for, print, cut out and organize your coupons. Dedicate time if you want to be successful.
Find Coupons
There are a plethora of ways you can find coupons. First, you should subscribe to your local newspaper. Check the bulletin boards (usually found at the front of your grocery store) in order to see all available store coupons. You want to make sure you're not missing anything! You can also join local Facebook groups dedicated to couponing. These can be helpful because they will alert you to any coupons that are specific to your area. Lastly, make sure you check coupon apps and coupon websites.
Get Organized
Make sure you get your coupons organized so you can access them quickly. An article written by Jen Avery for thriftynomads.com explains, "Organize your coupons in a way that works for you. Sift through your coupon resources one by one (e.g. local newspaper, online, apps), then add relevant ones to your booklet. Now, the rest is easy! The next time you grocery shop, open your coupon binder and see if any of the coupons match items on your shoping list. Note: the CartSmart app does this for you, though it's not all-inclusive in scoping coupons."
Understand Overages
The above mentioned article goes on to say, "Overage happens when the worth of your coupon exceeds the cost of the product. That means you are either owed money in cash from the grocer, or get credit towards your current bill." Always check for both store and manufacturer coupons for any items on your list. Check your store's clearance section against any coupons you have and lastly, price match items you need. For example, you might have a coupon for $1 off dawn dish soap. Your local grocery store has the soap on sale for $1.50 but the 99 cent store sells it for 99 cents. Price match the item and you'll have a 1 cent overage.
Keep in mind that not all stores will pay overages in cash. Some will give you a credit towards future purchases and some will require you to fill the 'overage gap' with filler items that add up to your overage amount. Make sure you check your local store's policy.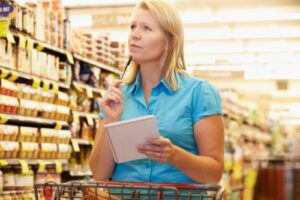 Shop Smart
Don't buy something simply because you have a coupon for it. Stick to your grocery list and only use coupons for what you need. Otherwise you'll wind up spending more instead of saving money.
Use these tips to help you succeed at couponing.