The point of using coupons is that they help you save money. If you are paying someone for their coupons or, even worse, a site for coupons, you are doing it wrong. The only coupons that should cost you anything are the ones you get when you pay for your newspaper. Don't let the thrill of getting a good deal at the store let you do something silly before you get there.
Family/Friends
One of the first places to look for extra coupons would be to those closest to you. Unfortunately, not everyone has a love of coupons. This means there is a lot that ends up in the trash. Don't let those go to waste. Let those in your life know that you want all the extra coupons. Most will love the thought that they can give them to someone instead of letting them go to waste. Let them know you will take their Sunday newspaper and any other mail inserts when they are done.
Groceries
When it comes to saving on your groceries, you will want to mark a couple of websites. Coupons.com is where you want to look for manufacturer coupons. They have more than any other site, so you will find something you like. Another site to always have marked is your favorite store. Then you can use both sets of coupons to maximize your savings when you get your groceries.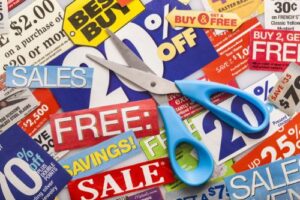 Activities
When you think of couponing, most only think of saving money on what they eat. Why shouldn't we be saving on things that we do? If you have not looked into Groupon, now is the time. It is one of those sites that you always need to check into. They have deals on all the excitement there is in your area. And with a click of a button, you can also use it to find something to do when traveling. Go anywhere and find discounts. Why should we only save money on food?
House Goods
Just like finding fun activities, there are many other purchases in our daily lives that we should be trying to save on. Unfortunately, decorating our home and keeping it stocked is not a cheap venture. Before going to the store and paying full price check out Retail Me Not. You can search for coupons on the items you need to make your house a home. They do the hard work of finding all the deals that are possible. It may take some looking, but it is worth the time.
Emails
Do you love getting emails? Most do when it is useful. While getting multiple emails from stores and companies each day can be annoying, it could pay off. Emails are one of the main ways that a business can spread the news of sales and coupons. Most of the time, you may delete it, but it is great not to pay full price when you need to purchase.
Keep your money and use the advantages out there.