It's that time of the year where you can save big and win big all at once. By using the magic of the holiday spending season, you can make your couponing dreams come true.  Here are just a few ways to spend smartly, feel like a big winner, and to live a couponer's dream all at the same time.
THE Time to Shop
The deals are everywhere you look during this time of year.  It's time to shop big and squirrel away your deals for the rest of the year.  Stock up on gifts and other gifting items for the rest of the year.  Even if you don't have a specific person in mind, snagging a few items here and there will make it easier to gift the rest of the year.  Don't just shop for Christmas presents, get your shopping done on a dime for the whole year.
Christmas Decorations and Holiday Decor
The best time to shop for holiday decor is after Christmas.  Stores will put all of their items on super sale to clear inventory.  Stock up on holiday decor and other items during after Christmas sales and store them away for next year.  You'll surprise yourself with your new decor the following year and save a ton all at once.
Stock Up
The holiday season is also a shopping bonanza for food items.  Places put canned goods and other food items on sale because of people cooking and baking for the season. Stock up on non-perishables or invest in a second freezer to store meats and other items.  You'll be snagging a great deal and have food all year round for your family.  Couponing and saving has never been easier than shopping big and storing away.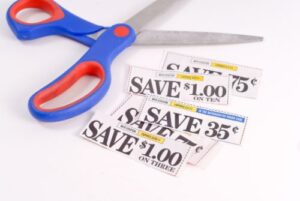 Clip Those Coupons
Using the magical couponing season you can buy clothing and other year round wearables at super sale prices.  It's all about thinking and planning ahead and taking action.  Anticipate clothing you may need for the summer, family vacations, back to school staples and more.  By planning out where you usually spend money throughout the year, you can take care of it all during these holiday months and save even more.
Using the magic of the couponing during the holiday season will have you saving so much money you'll be surprising yourself.  Try capitalizing on the coupons, especially this time of year and you'll feel like a big winner.