Arizona is full of unique spots to enjoy a vacation. On your way to Sedona, do not overlook all that Camp Verde has to offer. It is just a short drive away but full of adventures you will love. Those looking to learn a little history have that chance. Those wanting to enjoy the outdoors, in water or land, can do it. And those wanting just to kick back and relax and enjoy being away from home with love it.
Verde Ranch RV Resort
There are hotels everywhere, but why stay in a dull room when you could stay at a place that has so much more to offer. The Verde Ranch RV Resort is not just for those that have a camper. They offer different size cabins to fit your needs. This RV Resort has it all. The clubhouse looks out to a beautiful pool and splash pad. They have a full playground and three pickleball courts for you to enjoy. If that is not enough, dogs are welcome. They have paths by a stream you can take a relaxing walk with them. You should come to Camp Verde to relax and enjoy the views.
Montezuma Castle
This tiny town on the map has its very own castle. It was built by the Sinagua people somewhere between 1100 and 1425 AD. When looking for this castle, you will have to be looking up. They built the castle into the side of the mountain overlooking Beaver Creek. All of the homes were carved and built into the side of the mountains. While we cannot climb through them anymore, it is now a National Monument and well documented. If you love history, the Montezuma Castle is a must on your vacation.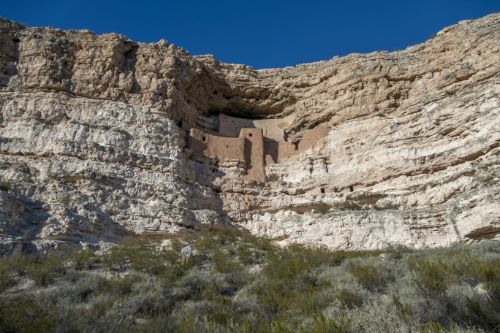 Out of Africa
In the middle of the Arizona desert, you can experience a bit of Africa. This privately owned zoo has so much fun to offer. Just walk around and enjoy watching the animals do their thing or talking one for the many tours and encounters they offer. Spend an hour playing with a sloth, or take an extra-long tour to get up close to your favorite animals. Those that are always looking for an adrenaline rush will love ziplining over the tigers and lions. Another fun feature is if you come on the right day, you follow behind the zookeepers and watch them feed all the animals.
Verde River Rafting
Along with all the hiking and trails to hike or take ATV's on, there is water fun as well. The Verde River is close by for you to enjoy. Mild to Wild offers both of these experiences. They have jeep tours to explore the desert. The white river rafting tours can be one- or two-day trips depending on what you are looking for, along with the level of difficulty you are ready for. There is no need to look for multiple companies. You can get it all here.
Camp Verde is the oasis in the desert you need.