Feeling like a visitor is never as comfortable as it should be. Hotel rooms have a way of making us feel like an unwanted visitor instead of like a home away from home. We are paying enough when we go to a hotel that it should feel like home. There are many things that we can do to bring home with us, making our vacation better. The more we can relax, the better we will feel and the more enjoyment we will have.
Sanitize
One thing that makes most uncomfortable is thinking about all the other people that have stayed in the room. Bring along some Clorox wipes like these travel packs. This way, you can wipe down all the surfaces that you will be touching the most. Thinking a surface is clean and knowing that it is will make a difference. Having Clorox wipes as a suitcase staple will change the way you feel about travel. There are plenty of uses you will find on your journeys.
Change the Scent
Every home you go into has a smell. Since we live in our homes, we don't notice there is a smell. When you walk into a hotel room, the scent will be the first thing that hits you. Changing this smell to one that you enjoy will make you more comfortable. Candles could be a hassle to transport. A diffuser would be less likely to break. There are many different styles of diffusers, and the BBSKIN Mini USB Diffuser is a simple solution. If you are short on outlets, you can plug it right into your laptop. Bring your favorite oil scent, and your room will be smelling like home in minutes.
BYOB
The blankets at a hotel have been used by hundreds if not thousands of different people. Bringing your blanket from home may take up some space, but you will sleep much sounder. Pillowcases are another item that could make a hotel feel more like home. What your face touches should be something that makes you comfortable. These simple items could change the whole feel of your hotel.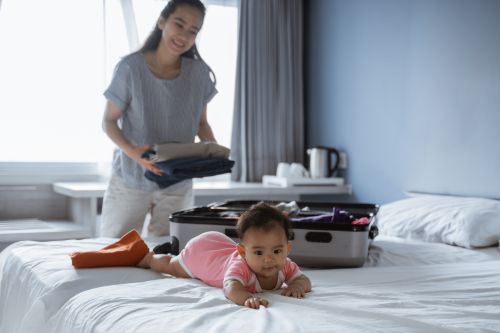 Stream
With the move away from cable and streaming services, we benefit from taking our TV everywhere that we go. Coming home and turning on a favorite show is a perfect way to relax. Do the same thing in your hotel room. Put on your favorite shows and kick back and relax, or watch the latest episodes you need to catch up on. Either way, the more you act like you are home, the more it will feel that way.
Drinks
We have covered almost all of the senses – smell, touch, sight, and sound. The only thing left is taste. Bring your favorite coffee blends or other drinks and snacks. With all the senses able to have something from home, you will never want to leave the hotel.
Bring a little bit of home with you everywhere you travel.