Most Americans spend an exorbitant amount of money every month in the grocery store. To avoid this common budgeting pitfall, use the following tips.
Buy in Bulk
Buying in bulk is an excellent money saving strategy. An article written by Alyse Whitney for bonappetit.com states, "If you want to save money by buying in bulk, do it without purchasing a membership to a warehouse store! You can get great deals on bulk goods on Amazon, Boxed, Jet, or using Instacart to buy from Costco without membership (there's a slight markup on items, like $6.09 instead of $5 for a rotisserie chicken). But only buy in bulk for what you know you'll eventually use and have pantry space for." You can also utilize the 'bulk bins' most grocery stores have. They typically have dry beans, grains or candy in them. Use them for bulk purchasing or to save money when you only need one cup of a particular item.
Use the Small Cart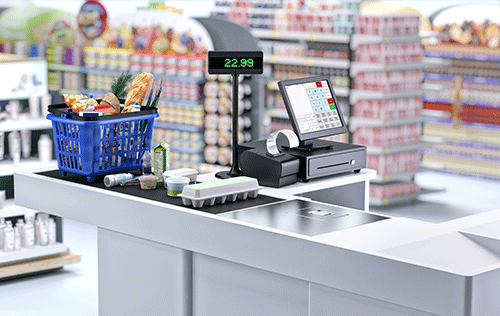 If you struggle with impulse buying, this tip is for you. Always grab the smallest cart or basket you can find. The above mentioned article goes on to say, "Using a basket or a small cart at the store will force you to only buy what you need instead of tossing in impulse purchases. And if you're only getting one night's dinner ingredients, see if you can get it in one armful. Get into that 10-items-or-less checkout line and be a minimalist with your food purchases."
Coupons and Store Brands
Do the math. It is your fiscal duty to make calculations to figure out what your cheapest options are. That means laying all your coupons out and checking to see if the store brand price is cheaper than the name brand option paired with a coupon. This requires brainpower as you cross check items and determine whether or not you can stack coupons. However, the amount of money you can potentially save on groceries is worth the effort. If you're serious about saving money, this is a great habit to get into.
Shop Less
This might not seem like the most helpful tip to help you save money, but it's actually a really good one. It does however require a lot of planning. Get out a pen, take stock of your pantry and create a menu for two full weeks. Write out a giant list of everything you'll need and head to the store. The most important part is to stick to the list. Grocery stores and supercenters are great at luring you into impulse buying. There are temptations around almost every corner from a box of donuts to a new pair of slippers. Stay the course and only purchase things you'll need for your menu. Doing this will help you save a tremendous amount of money.
The grocery store can be a money trap. Use the above mentioned tips to help you save some coins each time you visit.