You already love couponing – that search for the best deal in town keeps you coming back for more again and again. You also know being organized in your hobby is important for success and to reduce unnecessary clutter. Here are some fun coupon crafts to aid you on your journey and keep things orderly and in control so you are the master of your own coupon destiny.
Keep it Separate
Find a box or space where all of your couponing supplies live. Don't let it be shoved into a drawer or place that slowly takes over all over the house. Keep your scissors and tools in a separate space that no one else uses except you. You'll never have to waste time trying to get organized before couponing – it will be all ready to go. It will be so much fun organizing your box of goodies, you won't be able to wait to dive right in.
DIY File System
Have a large file folder where you can store your coveted coupons until they are ready to be used. You can organize them alphabetically by store or however you want so you always can check your file folder before you head out to shop. Make sure to also have a purge day once a month to go through what you have and make sure they are all current or if anything is expired, be sure to toss it. Come up with your own system and you'll always be ready to go. Don't experience the frustration of remembering you have a coupon somewhere for a particular store and then not be able to find it when you need it most.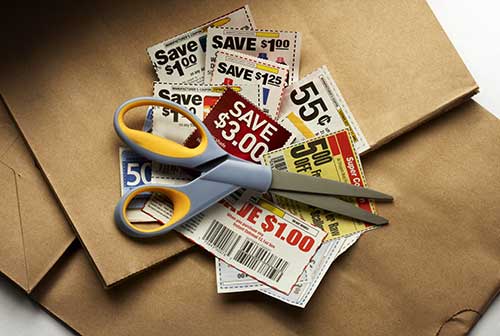 DIY Mini File System
Make a smaller index folder or wallet for your coupons you are carrying around in your car, pocket or purse. Make it fun and exciting so you'll always want to pull it out to use. You can find a small wallet that inspires you, or DIY your own with cute fabric from a craft store. The important thing is to find something that excites you and will encourage you to always remember to use your coupons. Nothing is as terrible as leaving a store and walking to your car only to realize you forgot to use your coupons. Never leave savings behind with your hand filing folder system.
Group Effort
If you are part of a couponing group, you can create different boxes or file folders that are individualized for that person. Stick their name on whatever organization system you like and when you are searching for coupons and come across a store you know they love; you can save it for them. Meet with your group and come baring gifts for everyone. They will appreciate the thought and might even return the favor in the future. It's a win-win for everyone involved.
Take your couponing game to the next level with clear organization and order that will lead to less frustrations and more successes with a couple of these tips and tricks.