Finding ways to save extra money each month is a top priority for many households. While coupons can be a great option for many people, using them on already discounted products is even better. The dollar store, for example, is an excellent place to take your coupons. Here are some tips you can use to make the most out of your money at a store near you.
Take Stock
Take a trip to your local dollar store to and take stock of their products. Name brand products are more likely to have coupons available. Look for non-perishable items like dish soap, shampoo and conditioner, toilet paper, tissues and various cleaners. These are items that you can typically find coupons for easily. Take notes or pictures on the items that you would potentially use in your home. Once you're done, search your local newspaper and the internet for manufacturers coupons that coordinate with the products. Look on the brand websites as well. You'll usually be able to find savings of about $0.25 to $0.50 per item. It adds up quickly when each item is only $1!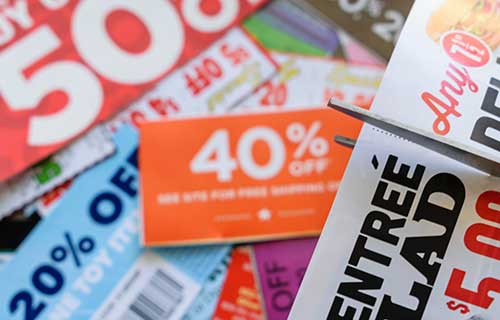 Check the Fine Print
It's always a good idea to double check the fine print of each coupon you're planning to use. An article written for thekrazycouponlady.com states, "Dollar Tree carries a lot of smaller-sized products you don't normally see in other stores. Because they carry products with very different sizes, checking the fine print on any coupons you'd like to redeem is an easy way to make sure everything matches up at checkout." It's also a good idea to see if there are any limits as to how many items you can purchase with the coupon. When you know your purchases fall within the rules, it makes checking out a much faster and more pleasant experience for everyone involved.
Check the Paper
Always consult your local newspaper. The above mentioned article also states, "Need manufacturer coupons for your Dollar Tree shopping? Skip the newsstand and just head to your local Dollar Tree, where they sell the Sunday newspaper for a buck. (My local Sunday paper costs $3.49 at the newsstand). Some stores have a limit on how many papers you can buy (usually three), and some stores don't carry them at all, so call ahead first." You'll not only save money on the purchase of the paper, but the savings inside will likely cover all of your costs. It's a win-win!
Do Your Research
A smart shopper knows which dollar store products are good deals and which can be found cheaper elsewhere. This is yet another reason why it's a really good idea to take stock of what your local dollar store has on hand. Good research equates to increased savings. Don't skimp on this important step!
Coupons stretch a long way when you use them at the dollar store. It's an easy way to make your favorite, inexpensive products even cheaper!