It sounds too good to be true, but it really isn't. There is free stuff everywhere you look, you just need to know how to capitalize on it and make it work for you. If you have a plan and get crafty enough, you can always be enjoying the perks of free items in your life. Here are a few ideas to get you headed in the right direction – you'll soon notice the wonderful world of free all around you.
Free Trials for Everything
Almost every service offers a free trial – from streaming subscriptions, workout plans, and everything in between, they are always offering a trial period. These companies are planning on people signing up for the free trial and then forgetting to cancel or change their preferences, and then it automatically charges the fee. Set reminders for yourself on your phone or calendar so you don't fall victim to the end of the free trial. Take in everything you can during that trial period and then cancel away. You can sign up with multiple email addresses or account to keep the party going if you aren't ready to move on. Or you might find your new favorite service and keep it a part of your life. Bottom line always try something free. You have nothing to lose.
Credit Card Rewards
Make sure your credit card is working for you. From free flights to cash back, credit cards are always competing for the best perks. Some credit cards only require you to spend a certain amount in a few months and you get free plane tickets. Easy, peasy, collect your free flights and then part ways. You can save your points or cash back until the end of the year and then use it to buy holiday presents – free gifting for all!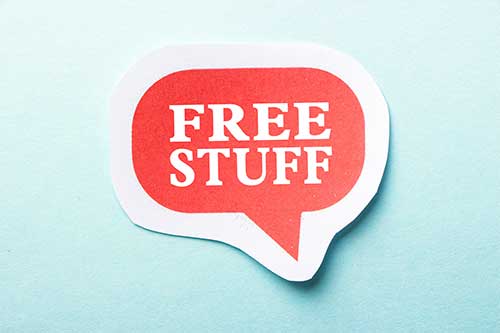 Reward Programs
Some reward programs are really awesome to their members. You can get free products or money towards future purchases, just by buying products you would be purchasing anyway. Always sign up for a store's reward's program – free is free, no matter how small or large it adds up. They'll usually give you free items on your birthday. You could have a full birthday month of free pizza, ice cream, coffee, makeup, downloads, percentages off of shopping, and so much more!
Work the Promotions
When shopping at stores, always take in the promotions they are offering. There are usually BOGO's or free items up for grabs, just for shopping at your favorite places. Especially at the grocery store, there are always buy one, get one free deals, so keep your eyes open and you'll be enjoying free stuff all around you.
If you know where to look, the world of free is always right at your fingertips. Get creative, have some fun and always keep your eyes open for opportunities that will put a huge smile on your face.