If you've always wanted to find deals and save money, but weren't sure where to start your journey, these tips can help you dip your toes in the money saving waters, without overwhelming you into extreme couponing land.
Start Where You Shop
There is no need to try to collect all the coupons at once. Pick a place you go to several times a month, like the grocery store, and start there. Sign up for the retailer's loyalty program card and make sure you're utilizing the card to the fullest. These cards are usually free and typically have a barcode on them that you scan at checkout along with your other items. Food Lion's MVP Rewards lets you load personalized offers and coupons onto your card for use when you're at the store, so you don't have to remember to take a bunch of paper coupons. If you sign up for an Albertsons Just For U Rewards card, you'll get deals on gas and personalized coupons. Target and Whole Foods take a little bit of a different approach to their rewards programs. Target RedCard comes in two forms. It is either a debit card that links to your bank account or a credit card, and requires an application, but there is no annual fee. This card gains you big perks like 5% off everything, including clearance, exclusive offers, and expedited shipping. If you have an Amazon Prime account, shopping at Whole Foods can gain you benefits like 10% off sale items, free 2 hour delivery, and up to 50% off on exclusive deals.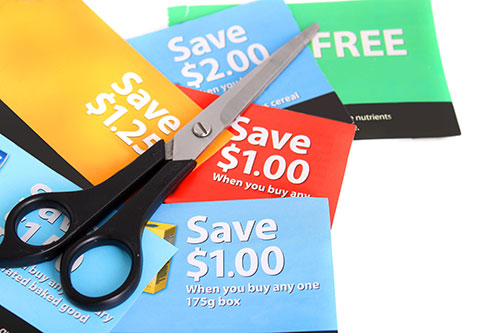 Coupons for Clearance
Don't be afraid to peruse the sale racks of your grocery to look for things you have coupons and deals for. Items can go on deep clearance for a myriad of reasons. Maybe the store is closing out that brand of cat food to replace it with another that may sell better, or your favorite cheese has a "use by" date that will pass within the month. I've actually gotten items free this way before, everything from bakery cakes to coffee pods.
Paper Coupons
You can get oodles of deals by clipping paper coupons and keeping them organized in a file or pouch. I started out by only keeping coupons for products my family already uses. I did compromise from time to time by branching out to buying things I would have bought anyway, but I changed the brand based on what I had a deal for. The Sunday newspaper and weekly store ads from where you shop are two great resources for finding paper coupons to clip. Once you sign up for your store's loyalty card, you'll likely receive coupons in the mail too.
Saving money doesn't have to take up a lot of your time. There are small steps you can save that really add up over time. Start with where you shop and see where the world of couponing takes you.