It's hard to wrap your brain around the fact that when you fail to use coupons or throw them away, you're actually throwing away money. Next time you claim you don't have time for savings, think again. Here are some reasons why you should brush off the stigma of coupons and start using them immediately.
Don't be embarrassed: own your coupon.
Picture this: you're at the grocery store searching for a check-out line. You see someone checking out with a stack of coupons in their hand. Do you avoid the line? Or, do you get in line behind this person and wait patiently? Because there is an obvious stigma attached to using coupons, people tend to shy away from them. They may even feel embarrassed which is a powerful deterrent for many. Another known fact is that many millionaires use coupons. Given the facts, it would seem as though the more money and education you have, the more likely you are to understand that saving money is something nobody truly looks down upon.
No more excuses.
It's time. Throw away all the excuses you have saved up about how you are too busy, too lazy, or just plain uninterested in couponing. Develop a savings mindset so you can help stretch your budget farther. Also remember that every little bit adds up! Taking a small amount of time weekly to clip coupons results in saving money. This will allow you to focus on building the life you've always dreamed of. And, it will be extremely satisfying to see how much you actually save by using coupons. The amount may surprise you!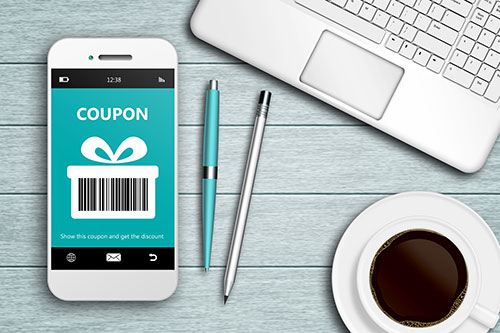 Take the time to save money.
Some people have time to devote to couponing like it's their job. Hats off to these folks, they probably go to the grocery store and receive free sour cream, and that is no small feat. Even if you lack the dedication or free hours in your week to commit a lot of time to saving money, there are still ways to get a great deal when shopping. For example, many grocery stores have apps where you can "clip" coupons that can be applied with your savings card. This is extremely easy and there is nothing to lose if you clip a coupon you don't end up using. There are often even coupons for free items in the app too!
Utilize websites dedicated to couponing.
There are websites devoted to helping you find valid coupons for your purchases. Coupons.com lets you print paper coupons for things like crackers and cereal, but you can also click to peruse their digital coupons. RetailMeNot.com breaks promos down into categories like Top Offers and Best Online Promo Codes. You can search a store and then narrow your results by offer type, like free shipping or percentage off. This can be handy if you don't want to download anything, but you still like to check for coupons before checking out.
It doesn't have to be that hard. Couponing doesn't have to be extreme or time consuming to put some extra dollars in your pocket. Half the battle is just getting yourself to get started.