By now it shouldn't be surprising that trend projections for coupons focuses on mobile and digital couponing. The technology we use continues to evolve and offer new avenues for marketing and consuming. While it's a bit hard to predict the future, here's a list of coupon trends to keep an eye out for this year.
Mobile Coupon Books
As our society because more tech-savvy and eco-friendly, expect more pamphlets, magazines and booklets to be available online rather than in-print, and this goes for coupon books as well. For example, folks in Missouri might be used to stopping by a gas station to grab their add sheet, or even having the add sheet delivered to their door, but now, there's a website where consumers can search for coupons. This introduces a paperless and convenient change to accessing coupons.
Jordy Aengeveld from Coupon Tools also includes an entire post describing the features of a mobile coupon book and environments they'd be handy for. The article is geared more toward marketers, but understanding how marketers think can also help you become a better consumer.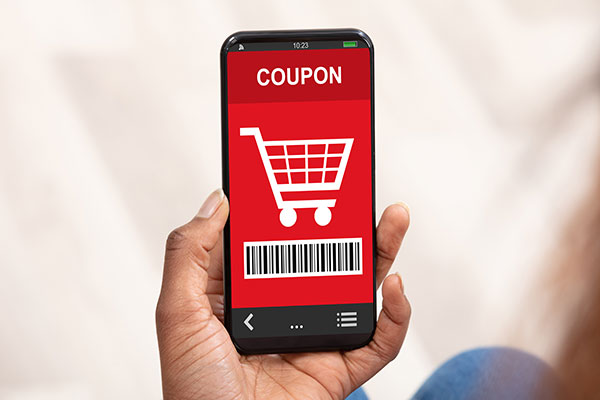 Gamification of Coupons
Another way marketers have taken advantage of all that technology has to offer is adding interactive factors. In coupons, this comes in the form of what the industry calls gamification. If you've ever visited a website and had a pop-up coupon where it operated like a scratch-off coupon, that's a very basic example of gamification. This promotional article on Coupon Tools includes other possible forms of gamification in mobile marketing, and to learn how gamification as a concept is manifesting itself in more than just marketing, read up on Sharyn Jackson's article, published through the Associated Press.
Now you know what gamification looks like, keep an eye out to see how many examples of gamification you encounter during your purchases. From punch cards to collecting badges through apps, there are plenty of ways gamification already feels like a natural part of purchasing.
Mobile Wallet Marketing
For Samsung and Apple smartphone users, you might be familiar with Samsung Pay or Apple Wallet and how both can be used to store debit and credit card information as well as loyalty rewards cards and plane tickets. This year, expect to be able to add coupons in your wallet as well. This will keep in trend with making coupons more eco-friendly and convenient to use.
Considering how prolific mobile phone usage is, for some folks, it's much easier to just bring a phone with all their coupons and cards than to remember to grab the cut-out print coupons. For those who want to learn more about mobile wallets, Kali Hawlk has an article on Credit Karma, and Sheila Olson from Investopedia has a post with the top three mobile wallets of 2019.
To keep up to date with new coupon and mobile marketing trends, check out Coupon Tools' collection of blog posts. Jordy Aengeveld's article on Coupon Tools also goes more in-depth into these trends as well as two additional trends to keep an eye out for. Happy saving!