Extreme Couponers are people who dedicate countless hours to clipping coupons, scouring sales and making detailed lists in order to save the maximum amount of money at the grocery store. There is a growing movement in the community to take excess product and donate it to less fortunate people. Here is one selfless couponer's story and some tips on how you can turn this type of giving into a reality for yourself.
Hannah Steinberg
This 20 year old college student become addicted to saving after watching TLC's hit show 'Extreme Couponing'. Although she was only in the 9th grade at the time, it grew into something so much more for this young woman as she grew older. She started a nonprofit organization called Our Coupons Care. She still uses her coupons to shop and donates all of the items to her nonprofit. From there, the items are allocated to help families in need. In addition, she runs monthly drives and receives cash donations to fill in the gaps where needed. Steinberg donates to numerous causes including Toys for Tots and a local, temporary homeless center that helps people navigate through difficult times. She works hard to provide an incredible service for countless families.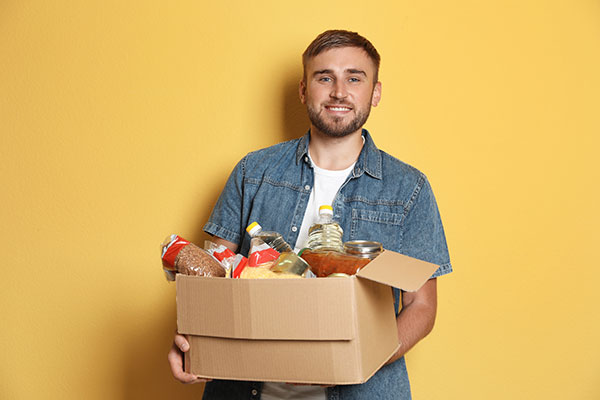 Tips for Giving Back
If you've ever been interested in donating to those less fortunate than yourself, couponing could be a way to accomplish that. In order to begin, you'll need to first identify a charity you wish to donate to. When you find your cause, contact them to learn what items they are in need of most. From that point you can compile a list and start clipping the appropriate coupons.
Develop your Strategy
Laura Daily is an avid couponer. She finds time to give to shop and give to charitable causes by sticking to her tried and true strategy. According to an article she wrote for livingonthecheap.com, "Each Sunday, I pull all the coupon inserts from my newspaper. I clip any coupon for items that aren't perishable or really expensive — toiletries, cleaning supplies, canned goods, cereal, snack bars, etc." Along with her tips on where to acquire coupons, she also gives excellent tips for sales you should keep you eye out for. For example, she mentions how toothpaste tends to go on sale every six weeks or so. She stores her coupons until those sales come back around in order to take advantage of coupon doubling (this equates to free product). Additionally, Daily talks about reading the fine print. If her coupon says 'limit 4' she will find a friend to go with her to the store. This means she will be able to grab eight tubes of toothpaste in one trip instead of four. Maximizing her time and efforts allows her be extremely generous.
Using coupons is all about making your money stretch farther. It allows people with average sized grocery budgets to give like the wealthy. Make extreme generosity a reality by giving this hobby a try.